One of the duties of the Freedmen's Bureau was to assist displaced or refugee Freedmen with transportation to another location. The bureau provided transportation for a variety of reasons – to help reunite families, to help Freedmen find employment, to help minor children find secure homes.
The transportation order below, dated July 9, 1867 authorizes agents of the Freedmen's Bureau to transport Jennie Thornton, age 8, from Washington, D.C. to Jamestown, NY [1].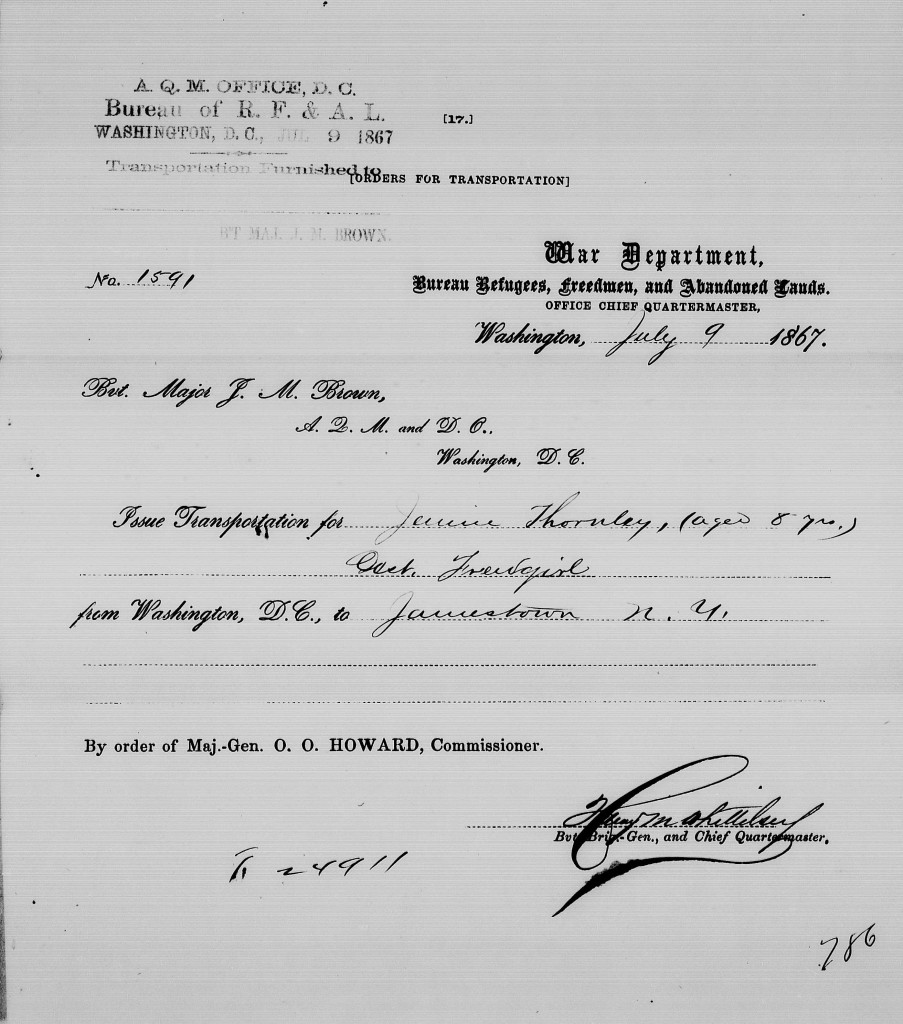 Jennie appears to have been traveling alone, and we wanted to see if we could learn how she fared after traveling to Jamestown, NY. We did find a Jennie Thornley, age 15, in Ellicott, Chautauqua, NY (2 miles from Jamestown), listed as an adopted daughter in the household of William Tew in the 1875 NY State Census. We include that record here [2]. Listed in the household were:
William H. Tew, Age 66, Banker
Mary G. Tew, Age 40, Wife
Mabelle G Smith, Age 19, Daughter
Lavina Frazier, Black, Age 40, Servant
Jennie Thornley, Black, Age 15, Adopted Daughter

Source Citations
[1] "District of Columbia, Freedmen's Bureau Field Office Records, 1863-1872," images, FamilySearch (https://familysearch.org/pal:/MM9.3.1/TH-1971-29866-69459-85?cc=2333782&wc=9J3J-W38:1069293002,1069294301 : accessed 27 December 2014), Assistant quartermaster and disbursing officer > Roll 12, Transportation orders received from headquarters, Jun 18, 1867-Mar 20, 1869 > image 371 of 1159; citing NARA microfilm publication M1902, National Archives and Records Administration, Washington, D.C.
[2] Ancestry.com. New York, State Census, 1875 [database on-line]. Provo, UT, USA: Ancestry.com Operations, Inc., 2013. Original data: Census of the state of New York, for 1875. Microfilm. New York State Archives, Albany, New York.